Pyrophyllite grinding equipment,stone grinder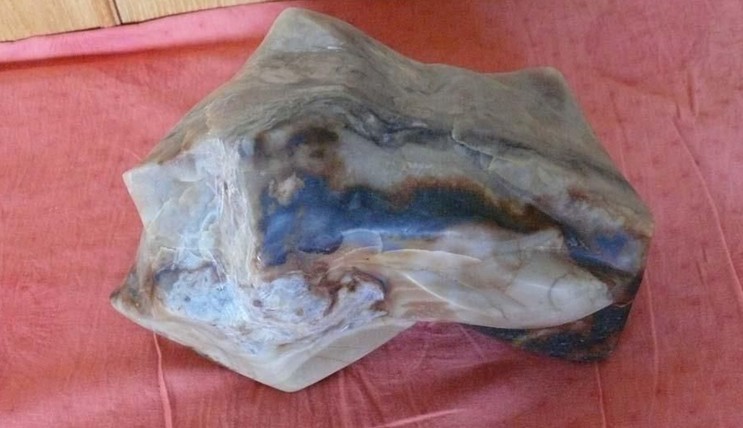 Pyrophyllite processing, we have
Pyrophyllite grinding equipment, stone grinder
.
Pyrophyllite
is a mainly pure montmorillanite, with quality of a material, soft fat embellish, has the good mechanical processing performance, powder color white, oil absorption rate is high, cover rate is good.It is mainly used for refractory materials, ceramic materials and carving raw material; Second is also used in rubber products, cosmetics, pesticide, and other packing and carrier. Pyrophyllite new purpose is for coating, is also used to make wall plate good raw materials, can also be used to system white cement.
Features and advantages of Pyrophyllite grinding equipment, stone grinder:
● High Efficiency
Under the same finished final size and the same motor power, the capacity of
Pyrophyllite grinding equipment, stone grinder
is twice as much as jet mill, mixing grinder and ball mill, and energy consumption decreased 30%.
● Long lifecycle of spare parts
The ring and roller are forged by special material with high utilization. Under the same grinding material and finish special size, the lifecycle of spare parts is about one year, which is 2-3 times longer than impact mill or turbo mill. Furthermore, the lifetime can reach 2-5 years for grinding calcite carbonate.
● High safety and reliability
As no rolling bearings or screws in grinding cavity, there are no problems caused by bolts shedding or rapid wear of bearings and seal components.
● High fineness, flexible adjustment
The final fineness of the grinding materials can be adjusted between 325 meshes and 2500 mesh (47-5 micron), and the product fineness can reach D97≤5μm.
●Environment-friendly
The application of pulse bag filter and muffler greatly alleviates dust pollution and noise.
●Advanced intelligent speed control device
Convenient adjusting, more uniform particle size.
Working Principle
Pyrophyllite grinding equipment, stone grinder: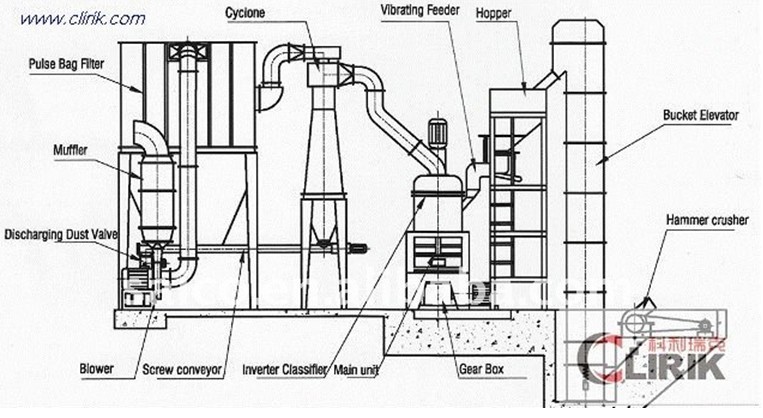 ●The crusher will crush the big materials into small ones, and then the elevator will send them to the hopper.
●The vibrating feeder will send the materials to the middle of first dial evenly.
●The motor of main equipment drives the main shaft and dial through reducer, and the dial drives numbers of rollers moving in the ring channels via pins.
●The materials will be driven to the edge of dial by centrifugal force and fall down into the ring, crushed and grinded by roller, and become powder after production of three rings.
●The high pressure centrifugal blower will inhale air from outside and bring the crushed materials to classifier.
●The rotating turbo in the powder collector will make the coarse materials return to the mill and regrounded, while the fineness will mix with the air and go into the cyclone and be discharged in the discharge bin, which is at the bottom of it.
●The air, which mixed with very little fineness, will be purified by impulse duster and discharged by blower and muffler.
If you want to order our products, please click:
Online Inquiry
Related equipment:
Dolomite Stone Gr Talc Stone Grindi