Mining is a basic industry for economic and social development. With the development of economic globalization and the establishment of the WTO mechanism, the globalization of mineral resource allocation has become extremely obvious, and international mineral resource competition has become increasingly fierce. The mineral grinding equipment is a high-pressure suspension roller mill (also known as an overpressure mill), which is suitable for the grinding of non-metal raw materials such as iron ore, pulverized coal, and blast furnace water. Slag, desulfurizer for power plant, coal injection, white ash, feldspar, quartz, gypsum, barite, limestone, ceramics, slag and other non-flammable and explosive Mohs hardness of not more than 9.3, humidity below 6% Mining, metallurgy, chemical, building materials and other industries of more than 280 materials for high-fine milling processing, the final product size is adjusted in the range of 80-425 mesh (the finest 1000 mesh). So what are the mineral grinding equipment for processing ore? What are the manufacturers? What is the price?
Ore mineral grinding equipment:
In the entire ore grinding production line, it can be divided into crushing, conveying, grinding, powder selection and other steps. The production line needs crushers, mills and other configuration equipment.

The crushers produced by Shanghai Clirik Machinery Co., Ltd. are: jaw crusher, cone crusher, impact crusher, etc.
Jaw crusher is used in the first process of crushing various ore rocks. It can process all kinds of ore with compressive strength not higher than 320MPa to medium size at one time. It is often used with cone crusher, impact crusher and sand making machine. Together, they form a complete set of sand and gravel production lines, which are widely used in mining, metallurgy, chemical industry, building materials, power, water conservancy, transportation and other fields.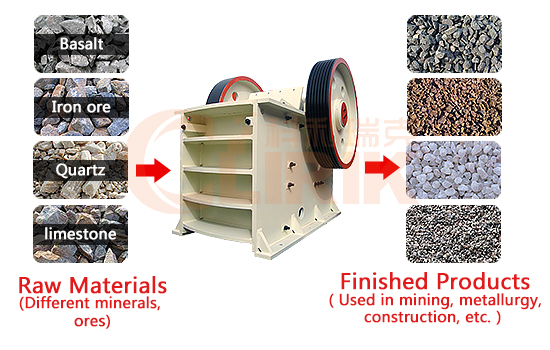 jaw crusher
Mineral grinding equipment produced and manufactured by Shanghai Clirik Machinery Co., Ltd. include three types of mills: ultrafine grinding mill, coarse grinding mill, and fine grinding mill. The specific equipment is as follows:
Raymond Mill
Raymond mill finished powder has uniform fineness, small floor area and strong systemicity. It is widely used in the grinding of mineral materials in the fields of metallurgy, building materials, chemicals, mining and other fields. It is suitable for processing various non-flammable and explosive materials with Mohs hardness below 7 and humidity below 6%. Between 44 μm, through the combined action of the analyzer and the fan, it can meet the requirements of different users.
CLUM Superfine Vertical Mill
The CLUM series of ultra-fine vertical grinding powder separation technology has good technology, convenient maintenance and environmental protection. The vertical grinding roller lubrication station can fully lubricate and prevent oil leakage. It is a new type of ultrafine powder designed and developed by Shanghai Clirik Machinery Co., Ltd. based on 30 years of four-generation mill R & D and manufacturing experience, based on HGM ultrafine mill, and introduced German ultrafine vertical mill grinding roller technology.
European coarse grinding mill
European coarse grinding mill has high production capacity, low power consumption, simple mechanical structure, compact and lightweight, low investment cost, and easy management. Mainly suitable for all kinds of soft and hard ore with medium and fine crushing compressive strength not higher than 320MPa (megapascal), widely used in metallurgy, mining, chemical industry, cement, coal gangue, construction, sand making, refractory materials and ceramics .
Ore mineral grinding equipment manufacturer of Shanghai Clirik Machinery Co., Ltd., after more than 30 years of hard exploration, the company has established a service system and created an experienced service team, which not only freely plans the site and design Installation basic diagrams and flowcharts, provide professional technical training, and send technicians on-site to guide the installation and commissioning of equipment. Contact us: WhatsApp + 86-13917147829