Some time ago, after purchasing Clirik's
HGM ultrafine powder grinding equipment
, the customer came to the company again and proposed to order the matching equipment. During the conversation, the customer repeatedly said that he did not regret buying the whole set of equipment.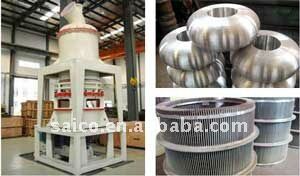 It turned out that he was not very convinced of the equipment for our mills, and he also consulted many manufacturers. After coming to China, he also visited several companies and talked very happy. I ordered them in our company. The mill, ordered the crusher at another manufacturer, and ordered the hoist and feeder from another manufacturer. The result is now a problem.
Because when configuring these devices, the first thing to do is to make plans and drawings. The entire mill production line must be matched with the mill's solution. Although the mill's solution is very good, other equipments cannot be used because of the design problems of the drawings. Now they have to do it again, which greatly wastes money and time.
In addition, the most important thing is that when users compare these products, they find that the quality of our work or the raw materials is far from our quality, which makes the users very disappointed. When he contacted these manufacturers again, they were not willing to take responsibility for it. Because the crusher and the hoist are not available, we came to our company and wanted to buy other supporting equipment and start working in time.
Therefore, we remind our customers to be cautious when purchasing equipment. For the sake of long-term interests, we should spend more time on inspections and not be able to make losses to our own businesses.
The engineers of Shanghai Clirik Machinery Co., Ltd can customize the production line according to the customer's needs. Customers who need to consult the drawings of the grinding production line, the special mill for limestone, the high-pressure Raymond mill and the ultra-fine grinding equipment can Call: +8613917147829.