When it comes to stone powder grinding, everyone will definitely think of the grinding mill, but in the entire mill production line, only the mill cannot complete the entire milling work, and other equipment is needed. In the previous introduction, we mentioned that the crusher and the mill are perfect partners. In fact, to complete the whole grinding process, other supporting equipment is needed. The following Shanghai Clirik Machinery Co., Ltd. will introduce the mill What are the basic equipment of the powder production line?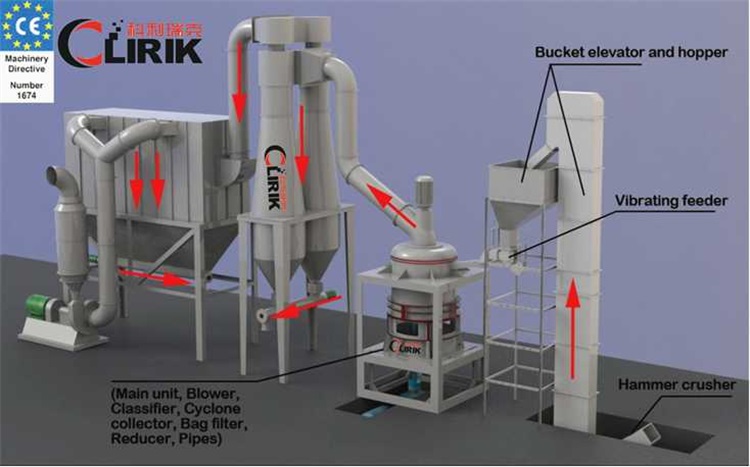 First of all, a
crusher
is needed, and
jaw crusher
is recommended here. Because the jaw crusher can be said to be the core equipment in the mine crusher industry, it is suitable for medium and fine crushing operations of various soft and medium hard ores, and the jaw crusher is a process of crushing in many crushing stone processing Primary operation equipment, so it is a very good choice to be responsible for primary ore breaking.
The second is the feed transportation equipment: bucket elevator and vibrating feeder. Bucket elevator is a transportation equipment suitable for various granular ore clay, sand powder ore clay vertical lifting from bottom to top, so the main responsibility in the ore grinding production line is to lift and transport the primary processed ore. The main function of the vibrating feeder is to ensure that the material enters the crusher evenly, avoiding the phenomenon of congested feeding and material breakage.
Of course, the core equipment
grinding mill
is indispensable. The pulverizer is an indispensable powder preparation equipment in the pulverizing production line. Among them,
Raymond mill
is a more commonly used pulverizer. With the increasingly strict requirements on the fineness of various ore powders on the market, new high-efficiency grinding equipment such as
ultra fine grinding mill
and
micro powder vertical grinding mill
have been put into use. Of course, customers still have to choose the right type of mill according to their own production needs.
In addition, with the development of the national green economy, the green and environmentally friendly production model is more and more popular among users. The dust production line will inevitably produce dust during the production process. At this time, the dust collector plays a role in dust removal, reducing the pollution in the dust production process to a small level.
Finally, there are other equipment in the grinding production line, such as a powder separator. The powder separator is an ore powder grading equipment, which can effectively send the fine powder to the collection device to facilitate the packaging of finished products.
The above descriptions are the basic configuration in the grinding production line. Some users may have other additional production needs. Design the purchase plan when purchasing. Shanghai Clirik Machinery Co., Ltd. specializes in producing various types of ore grinding equipment, with wide selection, reasonable matching, reliable quality and high cost performance. Welcome new and old users to purchase.