Copper ore processing and production technology mainly includes: three processes of crushing, grinding and beneficiation.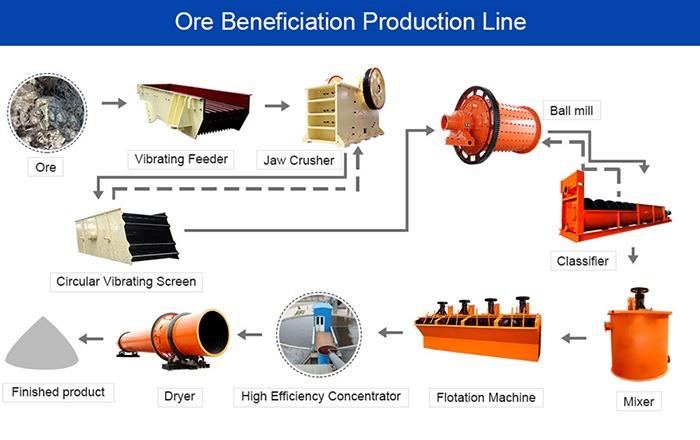 The first stage: crushing, screening and three-stage closed-circuit crushing
Large pieces of copper ore are evenly fed into the jaw crusher or mobile jaw crushing station (initial crushing) by the vibrating feeder through the silo for coarse crushing; after the coarse crushed copper ore is sieved by the vibrating screen, It is sent to the single-cylinder hydraulic cone crusher (secondary crushing) by the belt conveyor for intermediate crushing; the medium crushed copper ore material is sent to the multi-cylinder hydraulic cone crusher for fine crushing;
The second stage: grinding, two stages and one closed grinding
The 0-12 mm copper powder sieved by the vibrating screen is evenly sent to the
ball mill
for grinding, and is screened by the spiral classifier. If it does not meet the requirements, it is sent to the ball mill to continue grinding;
The third stage: beneficiation-new process of flotation separation
The copper powder that meets the requirements is sent to a flotation machine for mixed flotation, and then the obtained copper powder is sent to a dryer for drying to obtain copper fine powder.
The effect of Shanghai Clirik Machinery Co., Ltd. crusher processing copper ore for metal smelting is really good. In addition to solid product quality, more importantly, superior environmental design. For relatively polluted enterprises like heavy metal processing plants, the ability to reduce waste emissions during the beneficiation stage is an important guarantee for maintaining production. There is also an annual technical maintenance, CLIRIK engineers will conduct a detailed inspection of the equipment, will also teach customers more maintenance knowledge, and benefit a lot.
If you want to know more about copper mine beneficiation crushing and grinding equipment, you can click "online customer service", we have professional technical engineers to configure reasonable equipment for you according to your actual needs here, and make reasonable quotation for the required equipment.