Gypsum is a particularly useful processed material. Its main application is as a building material, mostly produced as so-called plaster of Paris for plastering walls and making decorative features in buildings. Moreover, gypsum has a diversity of other applications including making writing chalk, soil conditioning for agriculture, making moulds for pottery, as an additive in the manufacture of Ordinary Portland Cement (OPC), in surgical splints, in increasing the hardness of water, as an additive in certain foods such as tofu and in some types of medicines and pharmaceuticals.
In Clirik Machinery Ltd., you can always find suitable equipment for crushing and grinding Gypsum materials. CLIRIK provides our clients with high level Gypsum Processing Plant and also 25% save for expenditure, which can highly meet your requirements.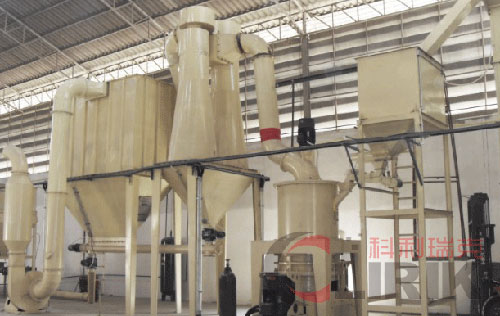 Gypsum grinding equipment
process:
After being crushed below 20mm (it is very needed to index), the gypsum can be ground into powder by grinding mills of CLIRIK Machinery. It always can be crushed into 325-3000 meshes by many different roller mills.
Vibrating feeder will feed dolomite materials into
Gypsum grinding equipment
grinding chamber evenly and gradually. After being ground, the powder will enter into a cyclone by blower force. Then gypsum material will be transferred to the storage room through pipes, and then will be discharged as the final products. The whole process works in a negative pressure environment.